You may not know this about me yet, but my favorite novels are the Anne Of Green Gables series from Lucy Maud Montgomery. I have loved them since I was a little girl. I also LOVE the TV mini series that was made in 1985 — the one starring Megan Follows.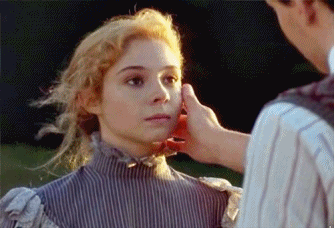 No one will ever play Anne quite like her. 
I have always wanted to try Raspberry Cordial, ever since I watched Diana Barry get drunk off it — of course, as any great Anne fan knows, Anne accidentally gave her some of Marilla's current wine by mistake. I must try that sometime, too!
I thought we would whip up a batch of Raspberry Cordial today. It's Sunday and it was a gorgeous day to be outside for a picnic and I think I have found my new favorite drink.
If you love Anne as much as I do or even if you just want a drink that' delish, keep reading so that you can whip up your own Raspberry Cordial.
Place your raspberries in a large metal mixing bowl and then squeeze the juice from two of the lemons over the berries.
We had a juicer dish so that helped, but if you don't have one of these, your hands work just as well.
Kids love to help with this part!
In a separate pot, boil the water and add the sugar, mixing thoroughly until the sugar is completely dissolved.
While the water/sugar mix is still hot, pour it over the raspberry/lemon juice mix.
Allow the mixture to cool to room temperature.
Cover your mixture with plastic wrap and place it in the fridge.
Let the mixture sit in the fridge covered for 24 hours and then strain the mixture into a pitcher, and keep it refrigerated.
When you are ready to serve, chill it over some ice and garnish with a slice of lemon.
Enjoy this refreshing beverage on a nice summer day! Great for a picnic!
And if you haven't seen Anne of Green Gables, you should give it a watch! Well worth it!
Make sure you pin this idea to your favorite board so you have it for later!