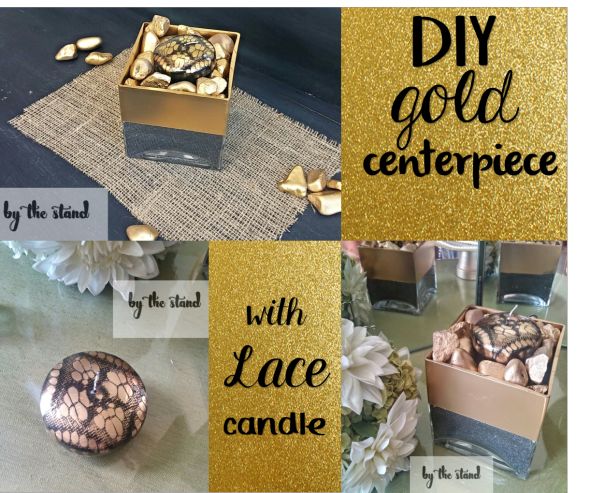 Chic home decor does not have to cost you a ton of money. I repeat —Chic home decor DOES NOT have to cost you a ton of money, and I am going to prove it to you! This whole project cost me under $10.00! ($5.00 if you count the face that I already have the spray paint, candle and lace)
This DIY is super easy and really quick, too! So let's get started!
Materials 
Square glass dish – $2.00 at Dollarama
Gold spray paint – already had
Black sand – $2.00 at Dollarama
Rocks – FREE from the ground (score!)
Painters tape – $1.50 at Dollarama
Round candle – already had
Lace – already had
Step 1
First step in my DIY was to paint my rocks gold. I went a little crazy with the rocks… I clearly did not need this many, but I love to spray paint, so now I have some extra deco rocks.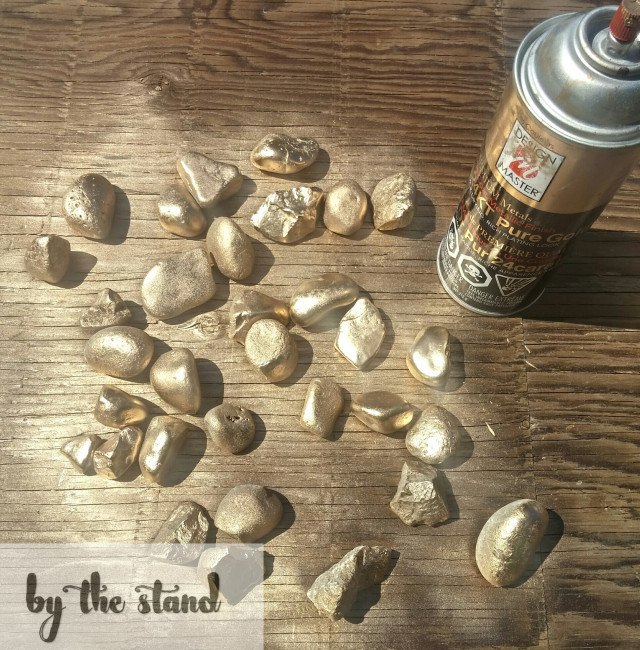 Step 2 
Taking my square glass container, I wrapped all around it with painter's tape about a couple inches from the bottom, and I taped off the bottom, too.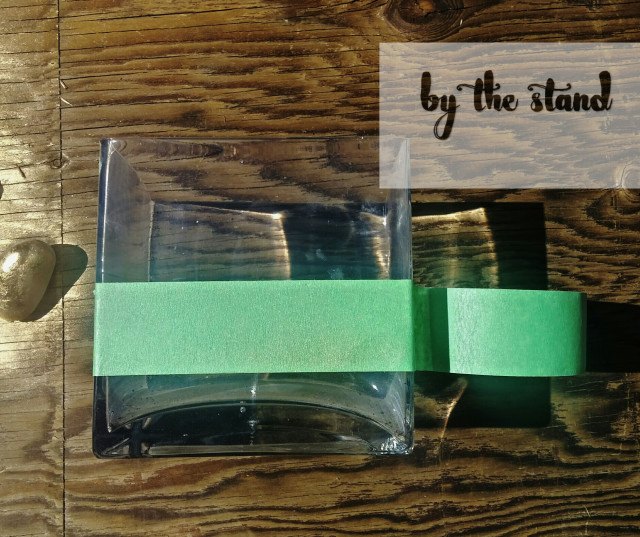 Step 3
More gold spray paint!! I sprayed my glass container with spray paint, but if you are going to do this DIY, make sure you put your glass container upside down. I wasn't thinking and I had mine right side up and the inside was full of spay paint. I had to then use paint thinner to clean out the inside. (oops.. we all learn from our mistakes, though.)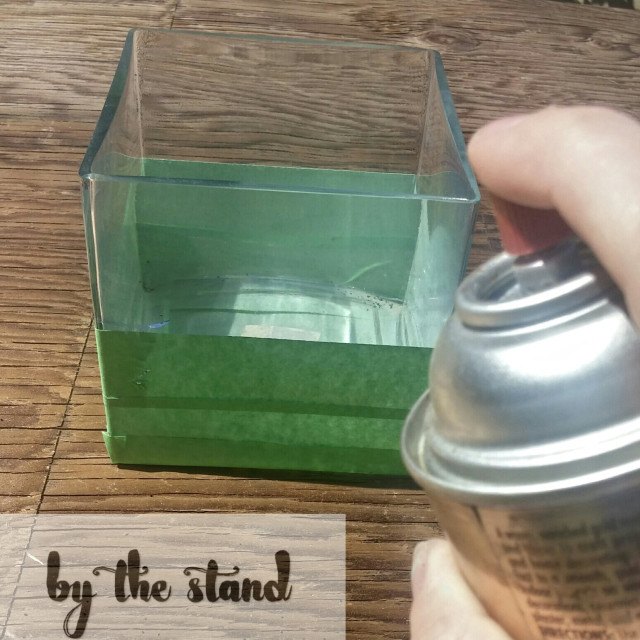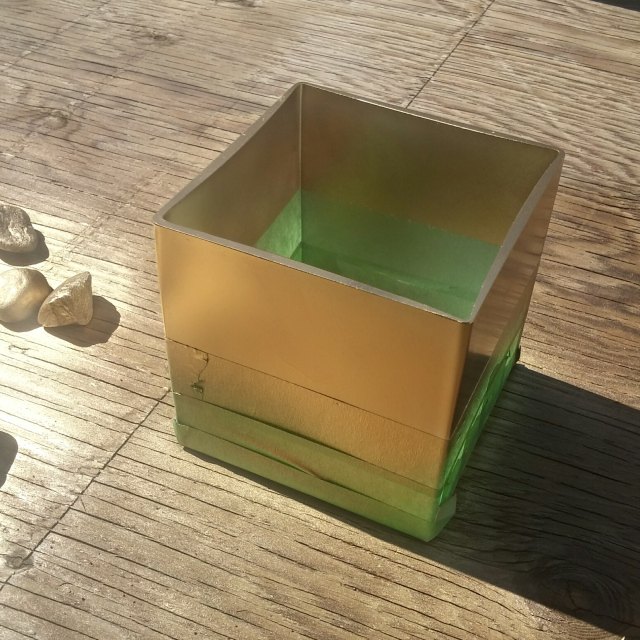 Step 4
While I was waiting for my spray paint to dry, I found this old crummy candle that needed a little TLC. I took a pair of scissors and started scrapping off the red film. It came off really easy and to be honest it was a little therapeutic sitting in the sun scrapping this stuff off.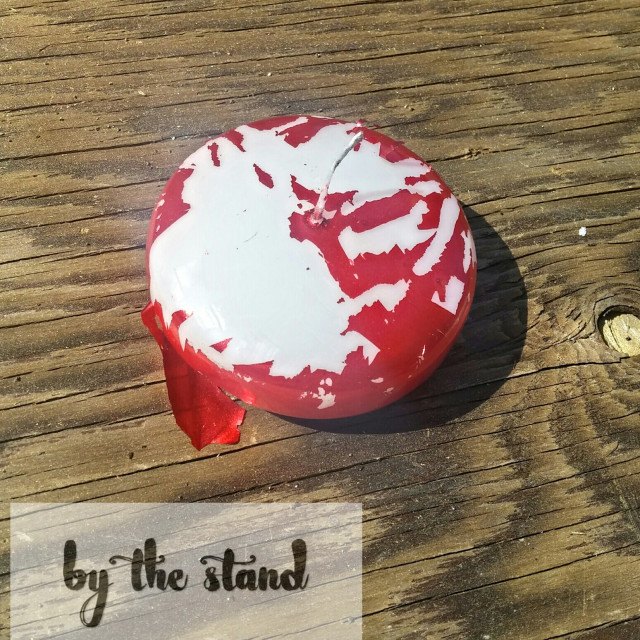 Step 5
After I got all the red stuff off, I taped off the wick with painter's tape and then spray painted the candle black.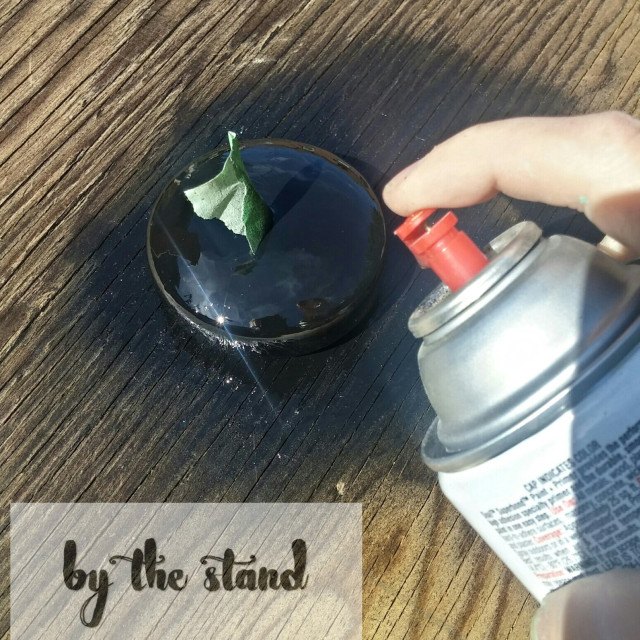 Step 6
Now while this paint was drying, I went back to my glass container. It was such a hot day the paint dried super fast. I peeled off the painter's tape and this is how it looked…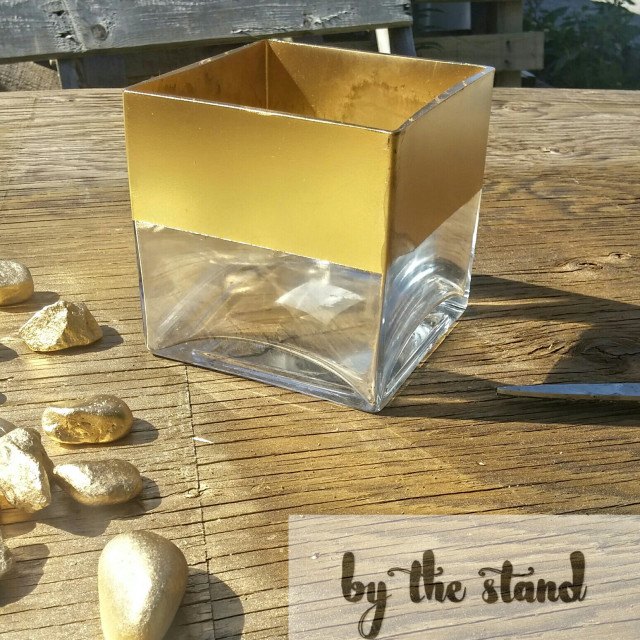 So chic!
Step 7
Next, I filled my glass container with the black sand. I left about an inch of room at the top.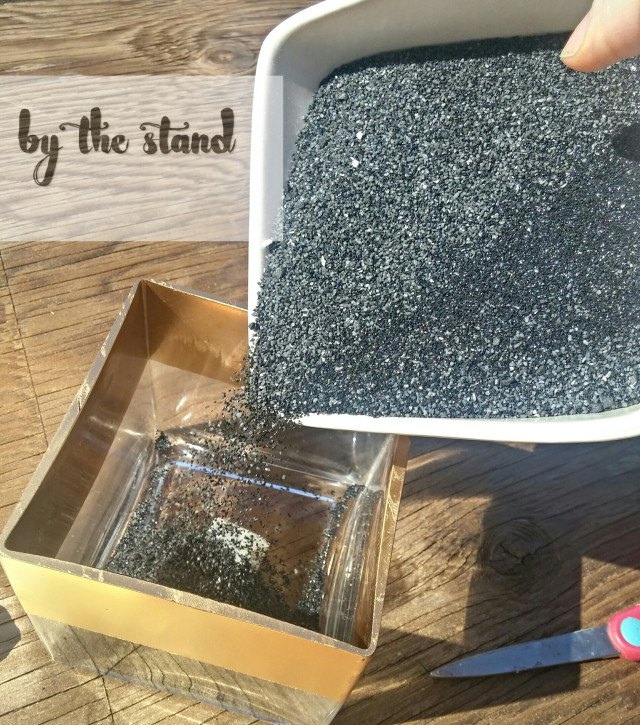 Step 8
I then starting putting in my gold rocks, leaving room in the middle for my candle.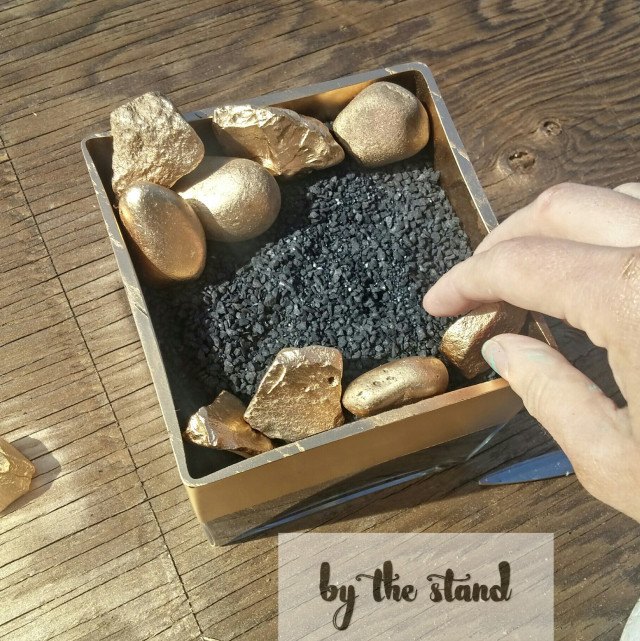 Step 9
Back to the candle. Once the black spray paint was dry, I slid the wick through my piece of lace and then secured the lace on the bottom with some painter's tape. You need to make sure that the lace is nice and tight around the candle.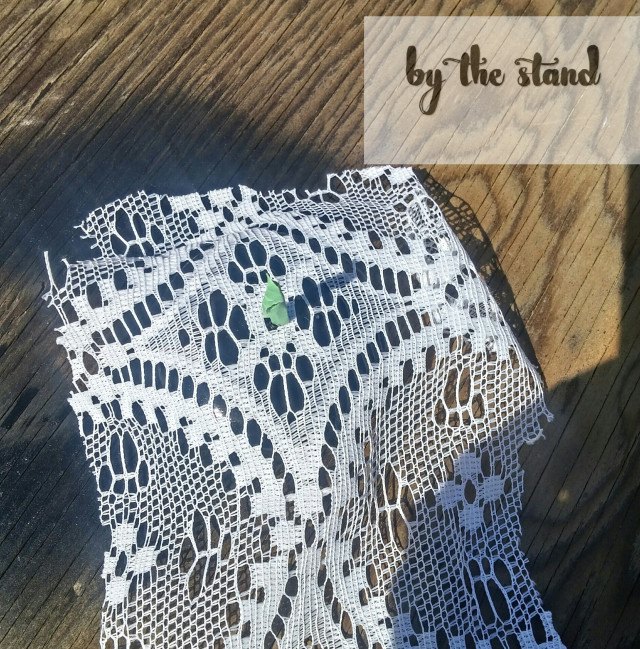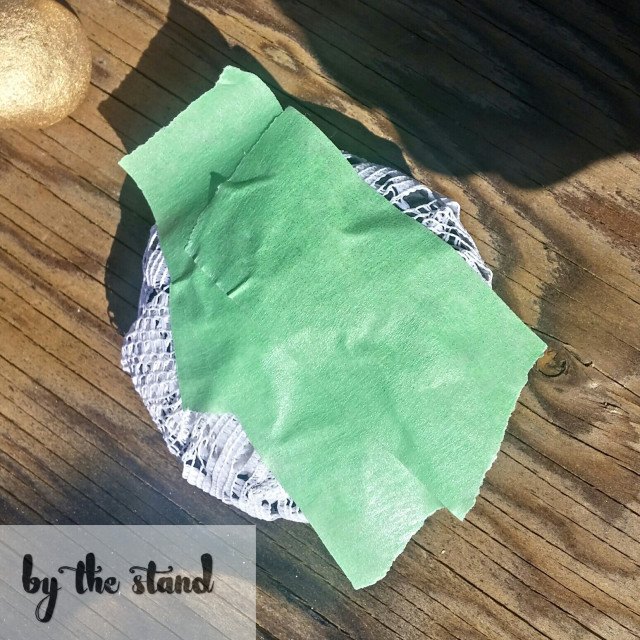 Step 10
I spray painted over top of the lace with the gold spray paint.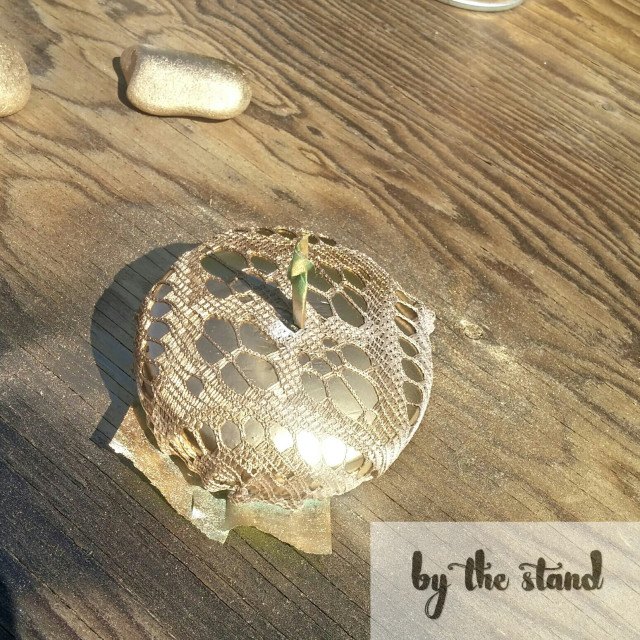 Step 11
After I let the gold spray paint dry, I removed the lace and this is what I had! EEEK… love it!!
Step 12
Ta-da!! There it is… proof that chic home decor doesn't have to break the bank!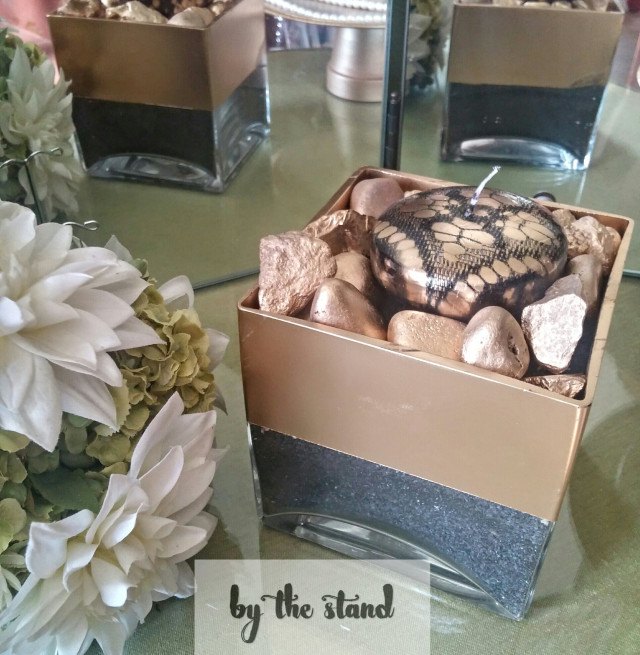 So… what do you think? Is there anything that you would change. I think I am gonna head back to the dollar store to get another glass container! I might try this out with a different color, so if you have any suggestions, comment below!
Remember, sharing is caring…so share this post with all your friends so that they know they don't have to spend a fortune on home decor!!