Well you guys… it's almost here!! FALL!! You know what that means. I am gearing up for one of my favourite seasons!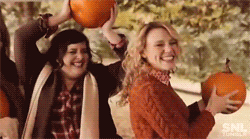 Fall and Christmas are tied for my favourite season. I love them both so much! There's nothing like a crisp fall day. Leaves falling, a flannel scarf around my neck and a chai tea latte in my hand.
To get myself in the fall mood, I decided to whip up a cute and easy DIY.
I am always trying to find ways to use up my wood scraps and these mini pumpkin stacks did just the trick.
They're so easy, that I was able to fit the whole tutorial in a video that's under a minute!
Head over to my Youki profile to take a look at the video.
Be sure and leave me a comment on the video and if you make these pumpkin stacks, please share a picture with me! I would love to see how you put your own creative spin on them.